The members and contacts of Street Image can be reached using any of the following e-mail addresses:
president: mark@streetimage.org
vice-president: jeremy@streetimage.org
webmaster: admin@streetimage.org
web design: magiklxl@aol.com
If you'd much rather meet in person, you can join us at our weekly meetings held every Saturday evening at 8:00pm in the large parking lot across the street from H-E-B and next door to Blockbuster Video. You can use the following map to see exactly where we are located at (the red star). We always encourage people to come share their ideas and show their rides as well, so if you live in the surrounding area, you and your club can cruise down and come hang out with us.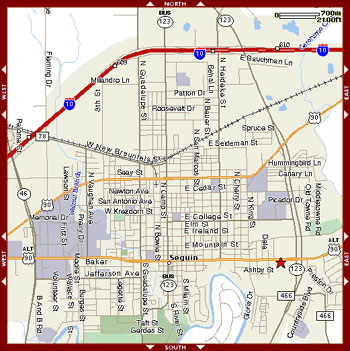 (Click map to enlarge)
If you need driving directions please contact us, otherwise we look forward to meeting you!